INVEST IN PRE-LEASED PROPERTIES AND
Earn monthly rental income
 Invest in commercial property located in Chennai , starting at just 5 lakh  and earn an extra passive income every month without any hassle.
About GAYN capital
At GAYN capital, we unlock such potential by
harnessing the power of collective ownership. We
proudly present the country's most advanced
digital ecosystem for fractional ownership in
institutional-grade commercial real estate.
The biggest plus point is the attractive leasing
prices that are offered to the commercial
spaces Commercial real estate is sure to give you
a impressive and attractive rental incomes  and  a
considerable amount of cash flow to the
investors who are looking for a passive income
that can change their lifestyle.
BIBA
Padur, OMR, Chennai
BIBA, India's fastest-growing women's ethnic wear brand is full speed ahead with their grand expansion. They currently have more than 150 brand outlets and 225 multi-brand outlets across the country. Backed by financial giants Warburg Pincus and Faering Capital, the company has announced that they plan to raise 1500 to 2000 crores via an IPO for their explosive growth plan. GAYN Capital is delighted to be a part of their story.
The best  CRE that You Can Trust
GAYN capital is the best Hi-tech digital ecosystem for Commercial Real Estate that enables individuals to  fractional ownership through minimal investments that yields a great return.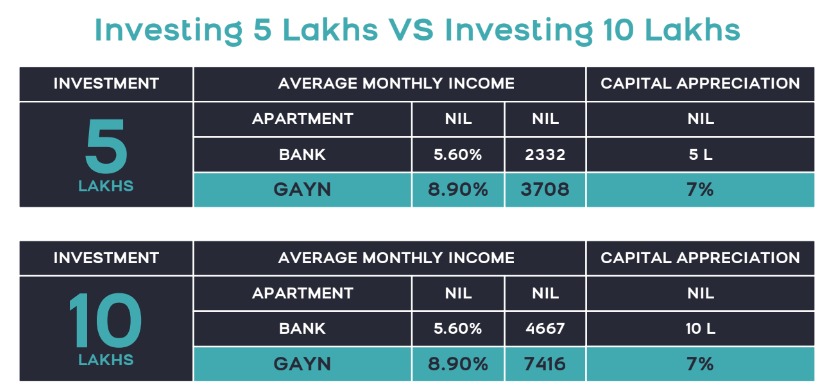 THE ROAD TO FINANCIAL FREEDOM IS LESS ABOUT FINANCES
AND MORE ABOUT FREEDOM
A Fractional Investment Platform defined by Scalability, Simplicity, and Speed
Explore the GAYN Capital FinTech platform for your CRE Evaluations, Investments, and Exits.
Start your investment journey with JUST ONE CLICK.
At GAYN Capital, we are aggressively data-driven, and rely heavily on machine learning, predictive analytics, and data science to deliver all the relevant information necessary for you to make smart CRE investments.
Online Transfers & Pay-outs
EXPLORE
Our professionally curated commercial properties with a detailed market analysis.
ENQUIRE
Schedule a call with our Relationship Manager OR Write to us and we will respond to you promptly.
EXPRESS
Subscribe to our Primary Offering and confirm your interest with a token deposit.
4 REASONS TO INVEST IN cOMMERCIAL REAL ESTATE
scope of COMMERCIAL PROPERTY investment
Close to 30 percent of NRIs are interested in fractional ownership of CRE in India. Think wise and invest now at a starting price of just 5 Lakhs.
Estimated exponential growth in CRE
The CRE market in India is estimated to grow by a CAGR of 13-16% in the next five years.
high demand for leasing property
Unprecedented leasing growth thanks to the pent-up demand finally being fulfilled.
CRe is the future
Tipped to become a $5 billion industry in the next three years.
YOUR FRUITFUL CRE INVESTMENT BEGINS HERE!
GAYN Capital is a FinTech Company that leverages technology to make Premium CRE Investing Possible for Everyone.
The GAYN Capital team sources the best real estate opportunities in India's thriving industries such as Retail, Logistics, Healthcare, and Entertainment. Our properties are carefully curated with a clear focus on high-quality tenants.
Do something fulfilling, meaningful, and enjoyable with your life.
Do you have the financial freedom, today, to go back to school, become an entrepreneur, travel the world, or take a holiday for life?

If that's not the case yet, learning how to generate PASSIVE INCOME from your earned income is just the thing for you.

Passive income is income that requires little to no effort to achieve or keep. It doesn't need to be actively managed, and it is, therefore, much more scalable.
MONTHLY INCOME
via fractional rent from secure leases with blue chip tenants.
CAPITAL APPRECIATION
via fractional ownership of prime real estate.